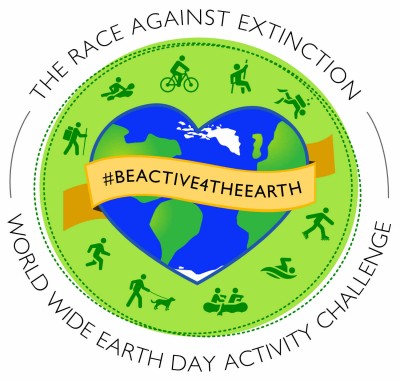 Celebrate Earth Day by participating in the World Wide Race Against Extinction Earth Day Outdoor Activity Challenge!
Born to be Wild? Passionate about preserving what is Wild or what remains of our planet's wilderness?
Make a positive impact this Earth Day by helping us create the second annual World Wide Race Against Extinction Outdoor Activity Challenge!
Pick your favorite outdoor activity and go wild to benefit Mother Nature!
You can participate anytime, anywhere and anyhow by selecting one of our many activity categories listed below and on active.com or help us create your own!
The Race Against Extinction Earth Day Challenge is located anywhere and wherever you decide to run, walk, bike, hike, paddle, blade, walk your dog or whatever you want to do outdoors to honor Mother Nature and help us collectively accumulate 25,000 miles and raise $25,000 to benefit our wildlife conservation partners including World Wildlife Fund.  Simply register here, below or on active.com and choose or create your favorite activity and complete it on or before the weekend of Earth Day April 22nd.
Earth Day Challenge Tracker
Follow our overall progress towards the $25,000 goal via the "Earth Day Challenge Tracker"  and help our polar bears visit all seven continents and get back home safely.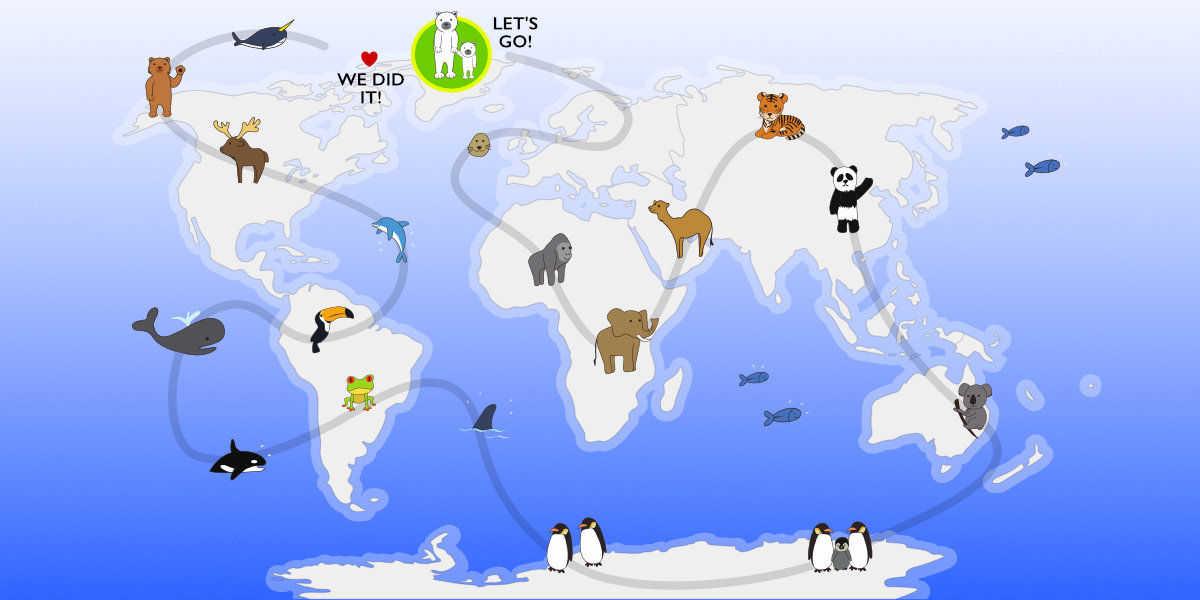 Last year we raised $15,260.00 exceeding our $10,000 goal!  This year lets run over our $25,000 goal!
How does the event work?
Step One?  Register for the Event.
Step Two.  When you register just tell us what animal/species you would like to dedicate your activity towards and how many miles/kilometers you will pledge towards the 25,000-mile goal!  You don't have to do anything other than answer this question during the registration process.
Outdoor activity challenge registration categories include:
Cheetahs (experienced and first-time runners)
Tortoises (walkers)
Kangaroos (parents running or walking with their "Joeys" in strollers)
Wolf Packs (runners, hikers or walkers with their pets)
Polar Bears (Road Cyclists)
Grizzly Bears (Mountain Bikers)
Sea Otters (Paddlers – Canoeists & Kayakers)
Mantas (Scuba Divers)
Dolphins (Swimmers)
Gazelles (inline skaters) and
Sloths (those who cannot or will not be running, peddling, paddling, walking or moving in general on or near Earth Day but would like to support and help protect their fellow species!) 
Whether you choose to engage in your favorite outdoor activity and participate as a Lone Wolf or as part of a larger Green Herd, your miles and kilometers and registration $ will go towards our collective team goal with proceeds going to our exclusive charitable partner World Wildlife Fund.
Each $ will help our Polar Bears traverse around the globe enabling them to visit all seven continents and their friends along the way. We will keep track of the distance the team has pledged, accumulated and the $ raised below.  
Participants will not only receive a one of a kind and quite awesome (if we do say so ourselves) commemorative shirt, but the satisfaction of doing something positive on or near Earth Day while being a part of a worldwide event whose proceeds will go towards global solutions to stem the loss of biodiversity and foster sustainable living solutions for everyone on our planet!
Step Three is to help spread the word and grow the green herd by sharing your activity and passion for wildlife on your favorite social media or with your friends, family, colleagues, coworkers, classmates, neighbors or fellow worhsipers #BEACTIVE4EARTHDAY:
"I would run five kilometers for a tiger", or "I would bike 25 miles for a polar bear".  Share a picture of you doing the activity as well!
The LAST Step, Peddle or Paddle?   Have Fun and enjoy your time outdoors!
Our Partners and this Year's Exclusive Charitable Beneficiary
World Wildlife Fund
If you would like to learn more about our exclusive race charity beneficiary World Wildlife Fund and the great work they are doing please visit WWF here.
Would you like to do more to raise awareness and funds for their great work?  Then please set up a Panda Nation Page by clicking here or copying and pasting this link into your browser: http://wwf.worldwildlife.org/site/PageServer?pagename=panda_nation_rae
And if you have any questions on setting up your Panda Nation Page or anything else related to your Panda Nation Page or fundraising for WWF please contact our friends at WWF via email at pandanation@wwfus.org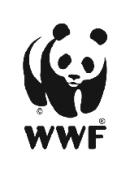 Arcadia Power
Arcadia Power is the first nationwide renewable energy company.  They supply 100% Wind Energy to homes and businesses in all 50 states with the mission to change the way America consumes energy - from fossil fuels to renewables.
Arcadia gives every individual and business the option to choose clean energy, putting the power back in the hands of the consumer and foster a community dedicated to conservation and sustainability.   To learn more about how Arcadia Power works and to save $30 on your first utility bill using Arcadia please click here!